Creating a non-profit social media content calendar doesn't have to be one of those tasks cause marketing professionals keep saying they'll "get to… eventually." Unfortunately, that often becomes the case for many social impact marketing teams.
When non-profit marketers juggle multiple urgent tasks, planning the social media content calendar becomes an afterthought. As a result, everything from copywriting to content creation to community engagement is rushed or altogether missed. If any of this sounds familiar, keep reading for our guide to building a practical and usable non-profit social media calendar.
Developing a Non-Profit Social Media Calendar
Laying out all your posts in a social media calendar is a great way to keep your content organized and ensure that you're staying true to your content strategy. For busy non-profit marketing teams, a good social media calendar can also serve as an effective workflow and project management tool.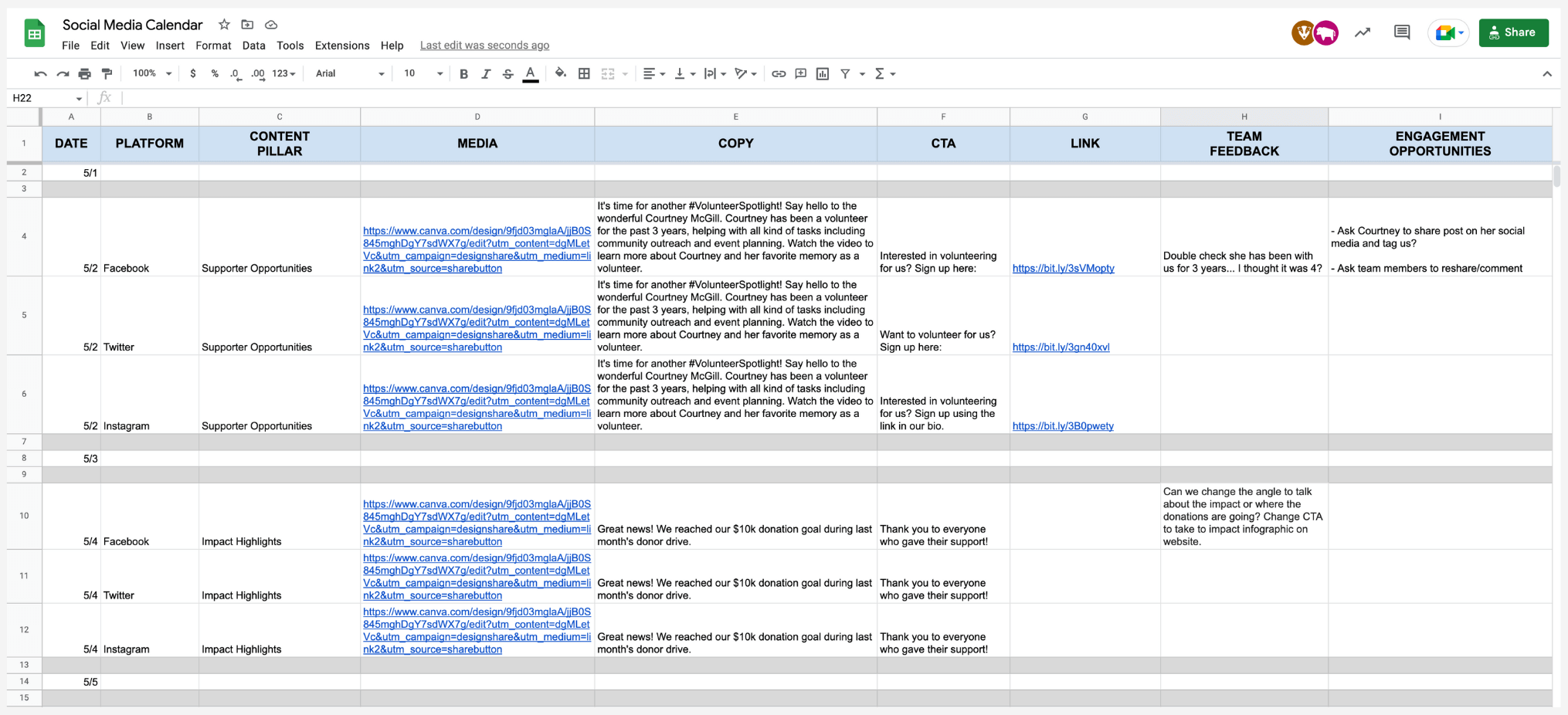 Here's an example of a basic social media calendar template that non-profit marketing teams can use to plan content.
Social media content calendars typically exist in a spreadsheet format that allows you to lay out the details of each post. We recommend outlining the below details in your non-profit's social media calendar:
Publish date
Platform
Media and visual link
Copy
CTA link
Each non-profit's social media calendar will be different. Some cause marketing teams may find that a more detailed content calendar better reflects their non-profit's social media strategy and management needs. Things like:
Content pillar
Relevant post hashtags
Campaign name
Tracking information (UTM codes)
Sections for team comments and approvals
Your social media calendar may evolve depending on your goals, your cause influence strategy, and the needs of your marketing team. As you get comfortable using the calendar to plan your social media content, make adjustments for your workflow.
Using a Non-Profit Social Media Calendar Consistently
Creating a social media calendar that fits your team's needs is only one piece of the puzzle. For it to benefit your workflow, you've got to make the calendar an actual part of your workflow. Here's how to do it:
Design a social media workflow for your marketing team
Outlining the content creation workflow makes it easier for teams to track what goes in your non-profit's social media calendar and when. That means your calendar won't get filled in all at once but over time according to your workflow.
Determine all the tasks that need to be completed to create social media content, from brainstorming to scheduling posts. Then assign tasks to the appropriate team members, and note the points at which each step in the workflow needs to happen and by whom. Defining this process early on will inform your calendar template and how you operationalize it. Based on your process, you may find that your calendar is more than a schedule but also something you use for:
Team management and accountability
Facilitating collaborative work sessions
Community engagement
Peer reviews
Archiving
Reporting & analysis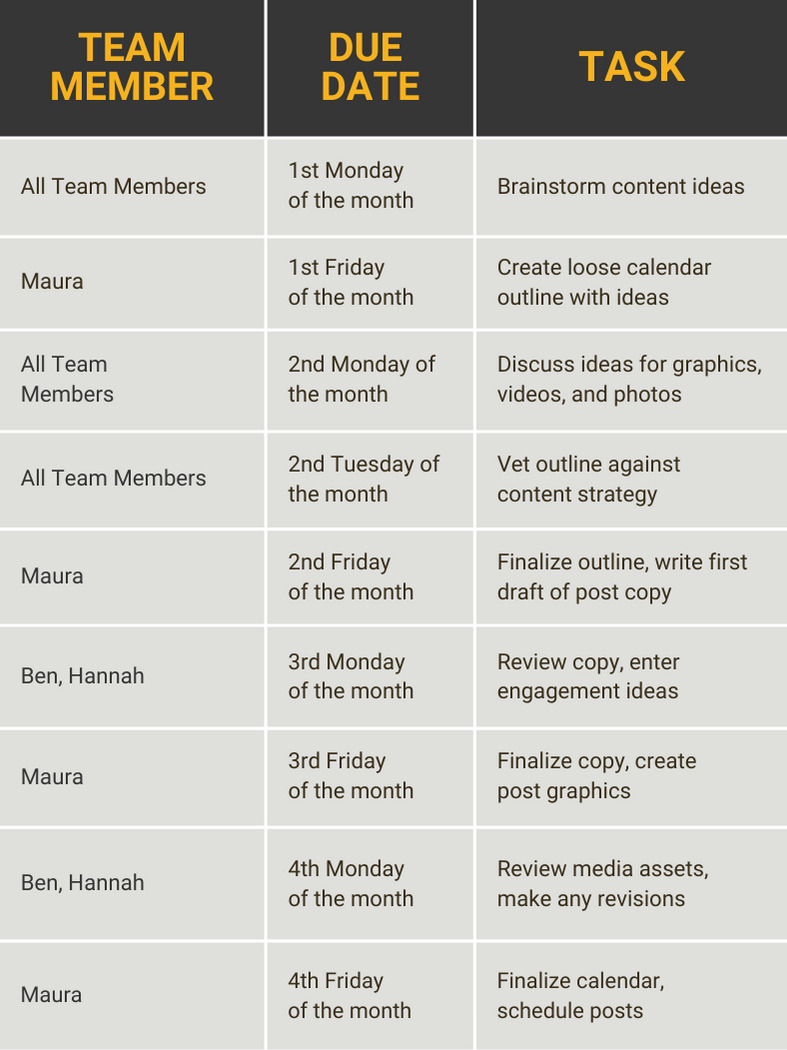 A snapshot of a monthly social media workflow.
Decide how far in advance to prepare social media content
How often you update your non-profit's social media calendar will vary for each team, but we recommend giving yourself no fewer than 3-4 weeks to ensure you have time to gather assets, write copy, get approvals, and plan your community management strategy. Of course, you might not be able to have every single post ready weeks in advance. But even having 60% of your content complete will give you space to deal with last-minute posts and late-coming assets. Make sure your advanced planning timeline aligns with the steps you've outlined in your workflow. Then, start assigning realistic dates to each step in your workflow, making sure to account for weekends, holidays, and unexpected delays.
Make team collaboration on social media content easy
Creating content is a team effort, so ensure your social media calendar is easy to access and edit among those working in it. Adding a section for comments, questions, and notes can facilitate collaboration across team members while keeping your calendar tidy. If you want content ideas or input from other departments, create separate linked documents rather than cram everything into a single calendar.
Non-Profit Social Media Calendar Post Ideas
Once you've created your non-profit's social media calendar template, it's time to test out your workflow and start to fill it in. There are plenty of things you can look at to inspire your content: national and local events, campaigns, day-to-day organizational activities, etc. Here are a few potential content sources to consider, along with ideas and examples of how to present them on social.
Cause Influence Campaigns
Promoting a cause influence campaign can fill your social media calendar while exposing your non-profit to a whole new audience. Consider these post ideas to get the most out of a campaign: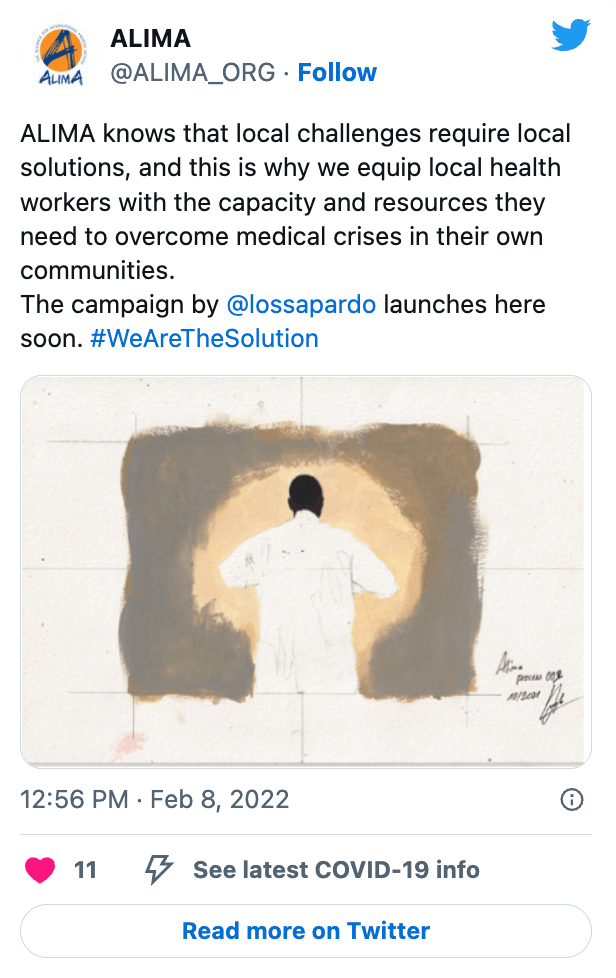 ALIMA posts a sneak peek of campaign art.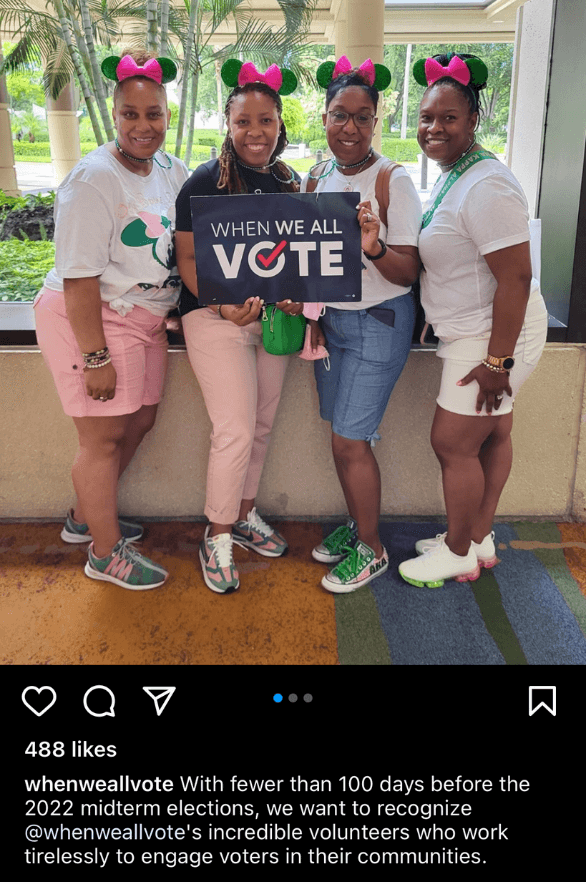 When We All Vote highlights their volunteers.
Events and Initiatives
Whether it's a one-off donor drive or an annual fundraiser, mark upcoming events in your non-profit's social media calendar as you learn about them. Consider promoting them in one of these ways:
Give a behind-the-scenes look at preparation
Post quotes from special attendees
Share video highlights after
General Happenings
When there aren't any big events or campaigns planned, look to the day-to-day activities within your organization for inspiration. Try these content ideas:
Spotlight staff and volunteers
Create a video to

 

thank your donors
Repurpose

 

top-performing blogs
Create artistic graphics from client testimonials
Highlight a community program
Get Ahead of Your Non-Profit Social Media Content Creation
An efficient planning and collaboration process will make content creation stress-free, fun, and, frankly, better. Take the steps we've laid out in this blog to create your non-profit social media calendar and watch it improve your workflow, content, and results.
This article was originally published on Entertain Impact.