In August, we published a blog addressing the three most common questions about influencer campaigns. Since, we've continued to receive inquiries about specific aspects of influencer marketing. So we're creating a series: Everything You Need to Know about Cause Influence, Influencer Campaigns, and Ambassador Programs (title is a WIP). In this installment, we prioritize reach versus influence when considering whether to work with celebrities, micro-influencers, or even nano-influencers.
Stay tuned for additional influencer marketing articles and feel free to send new or follow-up questions. Who knows—maybe your question will get a dedicated post like this one did.
Defining the Terms—from Mega-Influencers to Nano-Influencers
First, let's set the table with definitions. Once upon a time, celebrities were influencers and vice versa. Case closed. Today, with the rise of social and content creation platforms, there are at least four categories of influencers.
There are mega-influencers, who reach more than 1 million people; macro-influencers who have 100,000-1 million followers; micro-influencers with 10,000-100,000 followers; and nano-influencers, who reach fewer than 10,000 followers.

An infographic that shows an influencer's size based on their follower number
A great example of a mega-influencer is Serena Williams, a household name with more than 30 million followers across Instagram, Twitter, and Facebook. Williams would be an effective voice for influencer campaigns that aim to raise mass awareness. To ensure resonance in addition to reach, a successful influencer campaign involving Williams would need to feel relevant to her brand. Health and wellness and issues surrounding motherhood come to mind.
When engaging a micro-influencer, being specific is even more important. Take R. Eric Thomas. As a bestselling author, his 48,000 followers love his witty take on all things politics and pop culture. You'd want to be sure that your campaign fits his brand and voice. Most micro-influencers, like Thomas, are experts in their respective fields. Often, it's precisely that expertise that's helped them amass a following.
This is even truer for nano-influencers. Monipher Musasa is an excellent example. She has a small following of just over 400. But she'd be an optimal choice for a conservation-focused influencer marketing campaign that aims to incite behavior change because Musasa's primary role on social media as a conservation expert is to educate and inspire her followers to take action at the grassroots.
Should You Aim for a Big Celebrity or Work with a Micro-Influencer?
Clients often assume that an A-list celebrity is the best option. This isn't always true. It depends on the cause and, certainly, on the goals of your influencer marketing campaign or ambassador program. Most commonly, the best choice is to develop an influencer marketing campaign that incorporates multiple tiers of celebrities, influencers, and public figures. But it's important to know and be mindful of the benefits and drawbacks of each type.
Mega- and Macro-Influencers Give Amplification & Caché
Working with mega and macro-influencers brings visibility to an organization. These are major stars. Often, their reach transcends a single digital platform and their participation in a campaign has the potential to land on the Today Show or in Entertainment Weekly as our work with Kelly Clarkson, Camila Cabello, Keke Palmer, and Mark Cuban did on behalf of the American Diabetes Association's #DiabetesDanceDare.
Similarly, our campaign to restore Nina Simone's childhood home secured coverage in digital news and culture outlets like The Fader, Paste Magazine, and Uproxx, all because rapper, singer, and bona fide macro-influencer NoName lent her platform to #SaveNinaCrib.
Mega-influencers don't just have large platforms. They have larger-than-life brands. That makes relevance key. Without it, followers may dismiss an influencer's participation in your campaign as a business decision made by management. With it, you stand to reap not only the benefits of reach but those that come with the power of association.
In 2019, Cardi B sat down with Democratic candidate Bernie Sanders to talk politics. The unlikely pairing was a perfect match. Sanders' positions authentically aligned with Cardi's working class background. She became a household name and, in turn, introduced him to new audiences, helping her fans feel invested in the election. The video racked up 22 million views—exceeding viewership of Sanders' appearance on the Primary debates—and significantly elevated his Presidential campaign.
If your goal is to raise mass awareness or introduce a cause, working with mega or macro-influencers makes sense. Similarly, if your campaign is geared toward brand positioning, the inclusion of authentically relevant mega and macro-influencers can achieve real resonance through implicit marketing.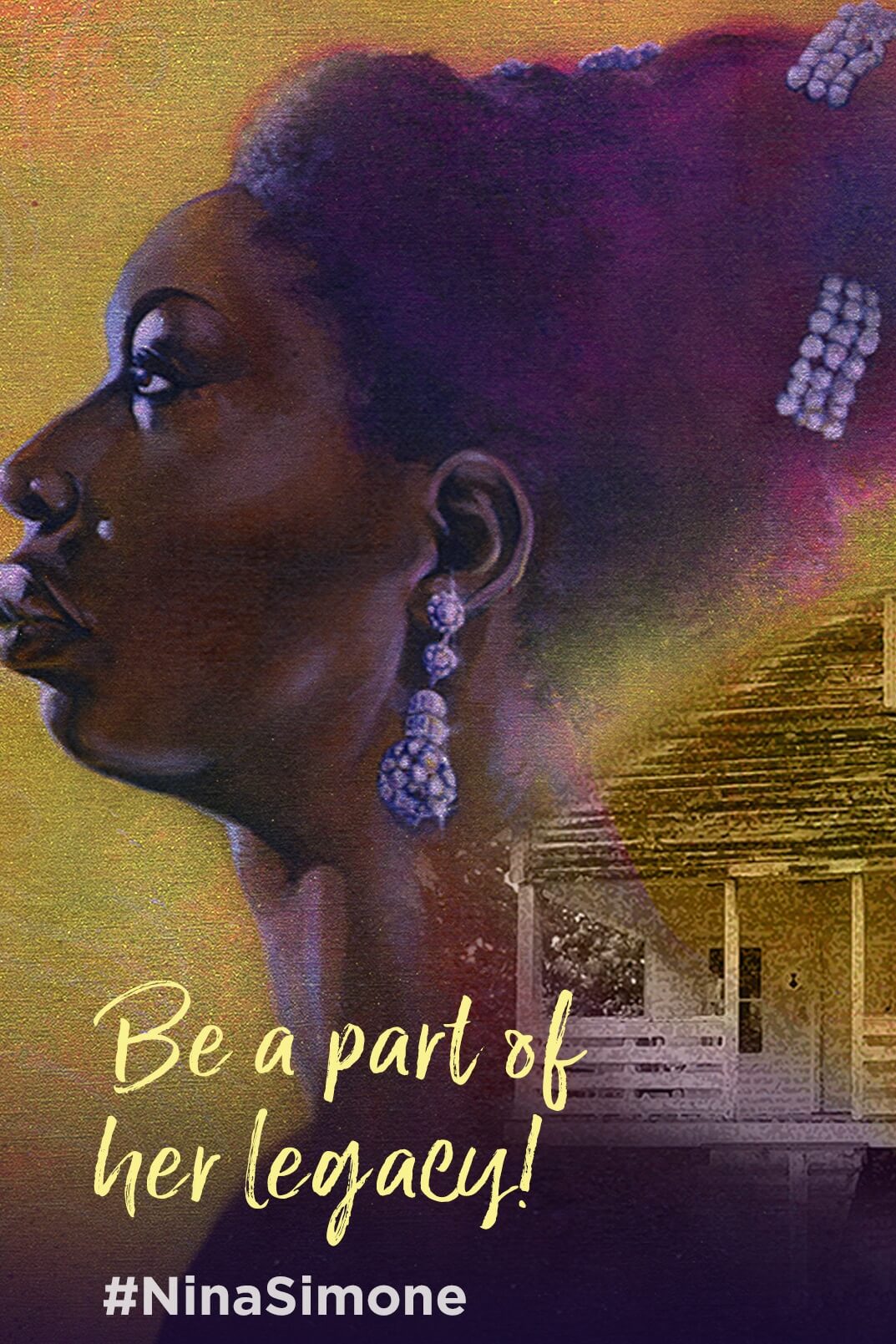 Graphic from the campaign to save Nina Simone's childhood home.
Micro- and Nano-Influencers Persuade
While mega-influencers are terrific amplifiers, they may lack a personal connection with their followers—the kind you might get with a micro-influencer. It's that deep connection that makes micro-influencers ideal for campaigns that aim to shift opinions and incite actions.
While micro- and nano-influencers have fewer followers, they garner higher levels of engagement. On Instagram, micro-influencers average an engagement rate of 3.86 percent—significantly higher than the 1.21 percent enjoyed by mega-influencers. In our experience, we've seen nano-influencers with engagement rates hovering 10 percent!
Micro- and nano-influencers may reach fewer people, but they're more likely to inspire action. This is especially true when it comes to advocacy and Get Out the Vote campaigns (GOTV campaigns). Micro-influencers can have a greater impact on voter turnout and engagement than celebrities can. In fact, a study by The University of Texas at Austin's Center for Media Engagement reveals people consider micro-influencers more trustworthy than celebrities. By nature, political micro and nano-influencers are part of and active within their real-life communities, making them prime agents for rallying supporters on a local level. Think of it as the digital equivalent of a traditional grassroots political movement.
Integrating Micro and Nano-Influencers for Political Advocacy and GOTV Campaigns
When working with BlackPAC on the Georgia Senate runoff elections, we knew our best shot to energize people to get out the vote would be through trusted voices, like local leaders, not big celebrities and mega-influencers. So we sought nano- and micro-influencers to participate in our GOTV campaign to increase voter turnout.
As part of our GOTV campaign, we worked with leaders from 60 churches across the state, including Bishop Paul Morton and Pastor Timothy J. McBride—influencers in their own right—to get the word out about the importance of voting in the runoffs. While we can't take all the credit, voter turnout in the Georgia runoff elections shattered previous records, and nearly 100,000 people who didn't vote in the general cast ballots in the runoff.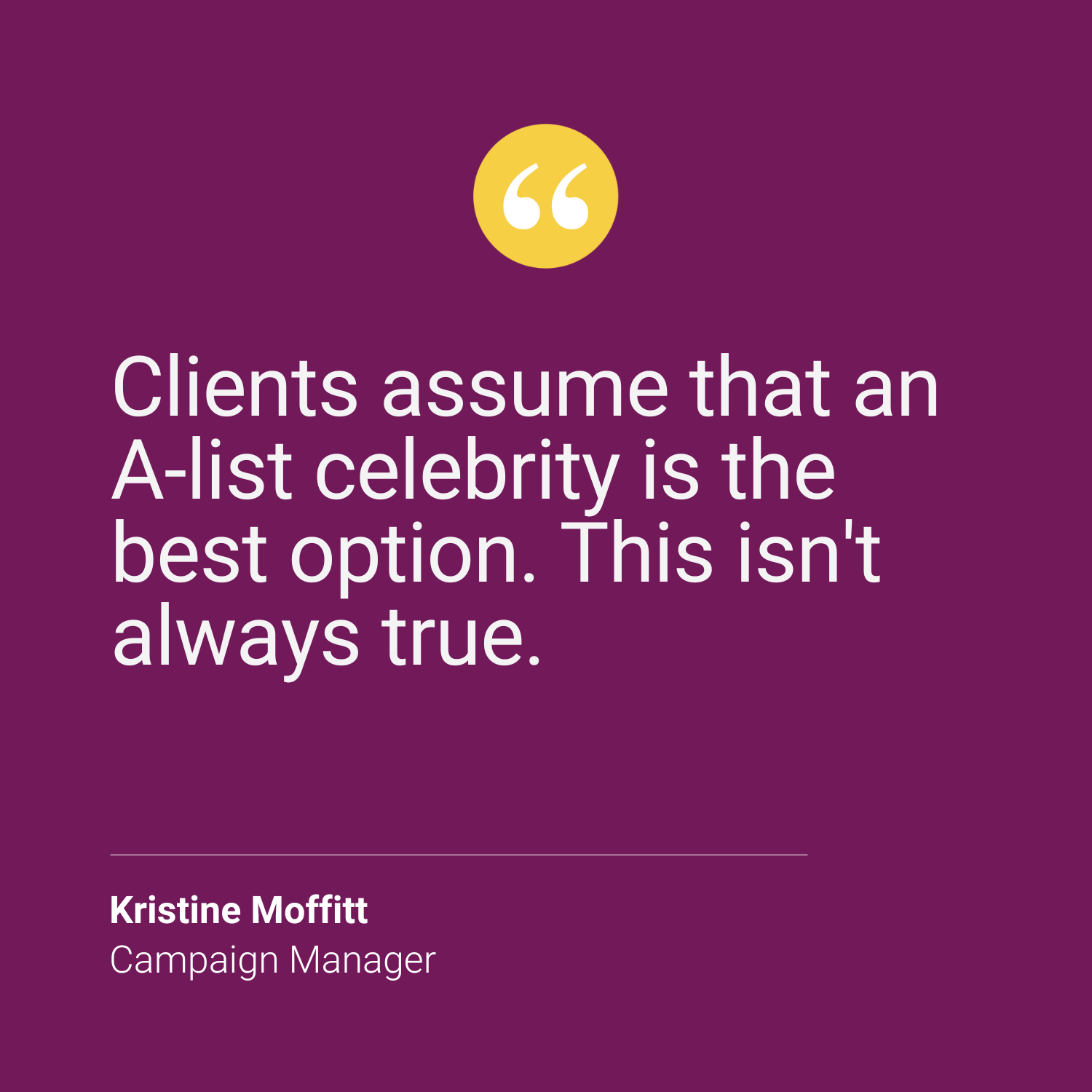 Evaluating the Benefits of Each Influencer Tier
You can see the benefits of engaging celebrities to generate big numbers and raise awareness, then bolstering that momentum with a cadre of micro- and nano-influencers to reach and persuade specific audiences to take action. Of course, there are times when hyper-specificity doesn't benefit a campaign, so focusing on a few big-name celebrities makes the most sense. Campaigns that aim to introduce organizations, brands, or ideas are good examples. If the aim is to get attention and circulate a hashtag, by all means, go for the biggest celebrity.
On the other hand, there are occasions when working with micro and nano-influencers is the best choice. This is often the case with advocacy campaigns and GOTV campaigns to encourage voter turnout. It can also make sense if your aim is to move beyond awareness and into the realms of behavior change and action.
When working with clients on their cause influence strategy, we invest a fair amount of upfront time sketching out the types of influencers we want to engage based on what their influencer campaign or ambassador program aims to achieve. Whether a client hopes to raise awareness, change the conversation around an issue, encourage action on legislation, or all of the above, we analyze the set of needs and strategize how one—or, often, multiple campaigns—can meet those needs through the intentional inclusion of influencers, from mega to nano.
This article was written by Kristine Moffitt and originally published on Entertain Impact.