Throughout my career in the cause influence space, I've often sought out projects that address how the arts can play a role in healing and social change. From war and injustice to sickness and death, societies have been through and are still going through a lot. How do we reconcile our experiences and heal our collective trauma? And how can purpose-driven art help with this?
My work with Cambodian composer Him Sophy and his exquisite classical album, Bangsokol: A Requiem For Cambodia, inspires discussion and provides answers.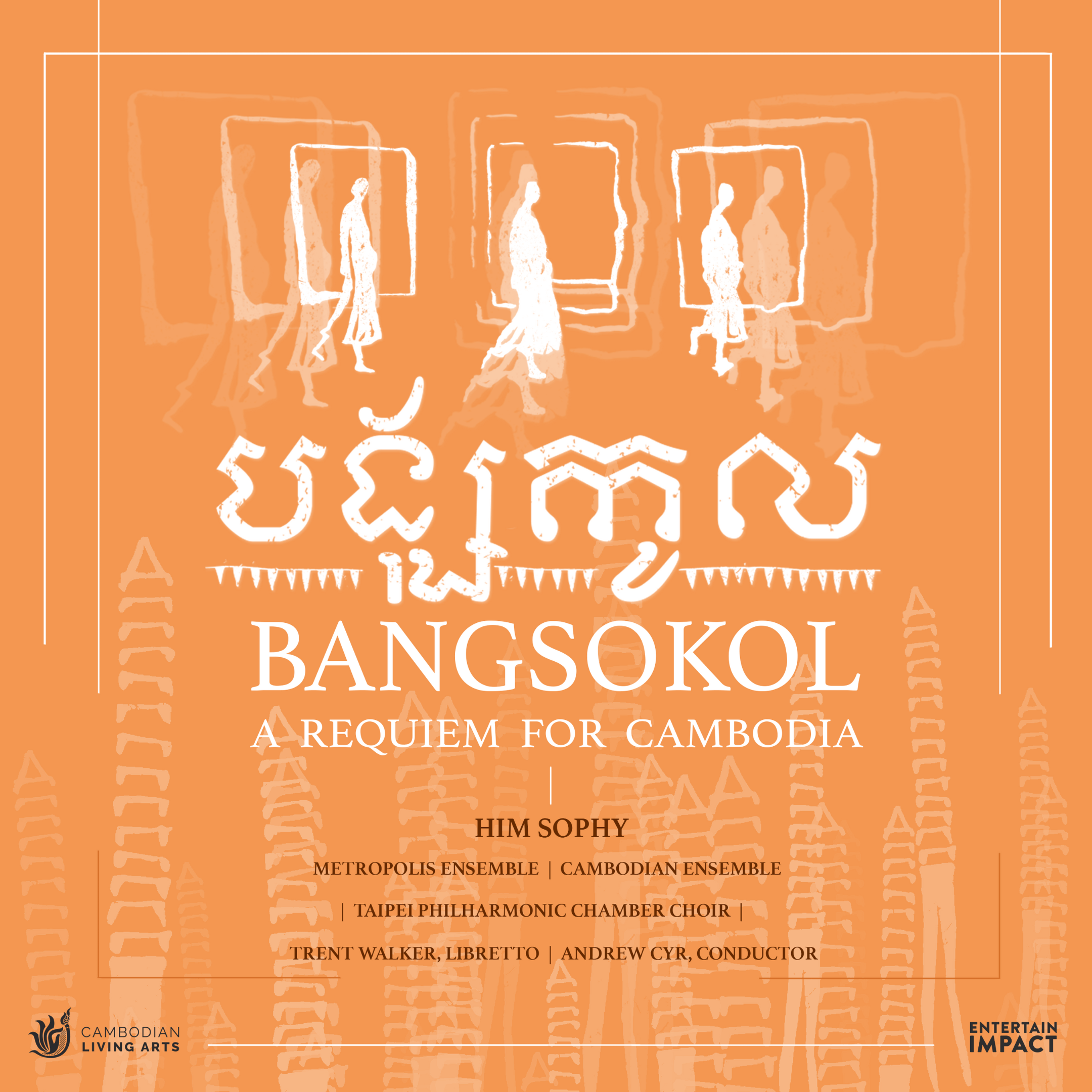 Creating Music to Address Unresolved Loss
In 2013, Cambodian Living Arts (CLA), an organization working to inspire new generations of Cambodian artists, commissioned a piece of music for the victims of the Khmer Rouge genocide. This composition would serve as a guide for the wandering souls lost during the genocide and the survivors dealing with the aftermath. CLA aimed to change the narrative about Cambodia. They wanted to be known as a country of peace and arts, rather than only the place with the infamous killing fields. From that, Bangsokol: A Requiem for Cambodia was composed.
This poignant work is based around the Buddhist Bangsokol ritual, which accompanies the Cambodian funeral rites. During Bangsokol, a white cloth is removed from the body to allow the soul's transmigration to the next life. Him Sophy's composition, Bangsokol, was written in honor of the 2 million who died during the Cambodian genocide, the victims who didn't get proper burial rights to usher their souls onward. The album for social change can help listeners empathize with the unimaginable suffering that the Cambodian people have endured. Its healing music acts as a catalyst for reconciliation and cultural renewal.
A Purpose-Driven Album for the World
I heard the first 15 minutes of Bangsokol at the Baryshnikov Center in New York that year. It was a deeply moving piece of music that resonated with me as a way to express the hurt and the reconciliation of the Cambodian people. After the composition was complete, I spent years thinking about its music and how the entire project was a shining example of cause influence.
While the requiem was recorded at National Sawdust in Brooklyn, Bangsokol was left unreleased and unheard outside of the performance's world tour. Both Phloeun Prim, the Executive Director of CLA, whom I had worked with previously, and I knew that the recording couldn't go unreleased. I approached CLA and asked if Entertain Impact could help release Bangsokol to a wider audience, and they agreed. In continuing my work to leverage art and cause influence to promote social impact initiatives, I wanted to do all I could to support an album release of Him Sophy's composition.
From then on, Entertain Impact has been preparing for Bangsokol's release on May 20, 2022. We're eagerly awaiting to share the profound classical music album with the world, not just because we love the composition but because we believe in its ability to encourage discussion on the use of art for social impact.
Bangsokol Merges Art, Healing, and Social Change
While the Cambodian genocide and its ramifications are at the forefront of the value of this music, I think it's important to look at the profound significance of art as a tool for healing and reconciliation in a broader context as well. As we consider the many ways that cause influence can support social change, we can look to the arts to help us memorialize unprecedented times. While Cambodia's genocide ended in 1979, reconciliation took decades, and many will carry the pain for the rest of their lives. Unfortunately, genocides are still happening, and this music for healing has relevance beyond Cambodia. Perhaps, Bangsokol even resonates for those who lost loved ones in the pandemic and could not be with, bury, or mourn them in person. Bangsokol can be a therapeutic tool for those that need a resolution for unresolved loss.
Bangsokol shows us how music can be a vessel through which we find sanctuary. It is a prayer and a roadmap for honoring the dead that can't go unheard. Him Sophy and all those involved in the album's creation have shown us that using art as a tool for healing and reconciliation is possible, even after a deep tragedy.
I hope the release of this sage, heartfelt album offers the chance for many more to be inspired. My passion, work, and focus are to engage popular culture for social impact and to support organizations that want to utilize the power of cause influence for transformative change. Bangsokol is a marvelous example of just that.
This post was written by Paul M. Katz. It was originally posted on Entertain Impact.