When most non-profits ask about incorporating artists into their awareness and fundraising campaigns, they think about celebrities or influencer personalities. In their minds, what these public figures offer non-profits is their platform and reach. While we wholeheartedly agree with that value proposition, we want to ensure that non-profits don't overlook the value that artists produce through their art alone and miss how they can tap into that art's value for cause.
Entertain Impact CEO Paul Katz says it's important to remember that visual artists, designers, performers, and musicians are all cultural creators and influencers.
"If they're integrated into a thoughtful cause influence strategy they can not only elevate social issues through PSAs and social media posts, but also touch people's hearts and minds through their art."
In the latest installment of our cause influence series, we're sharing examples of how we've helped non-profits integrate original art for cause into their awareness-building and fundraising programs.
1. Collaborate With an Artist to Create Custom Non-Profit Merchandise
Partnering with an artist or illustrator to design merchandise for your non-profit is one way to use cause-inspired artists and original art for fundraising. For-profit product brands have done this for years and are increasingly incorporating social messages and causes into those partnerships. For example, check out Nike's collaboration with Steve Harrington for Earth Day.
Since partnering with an artist for social good is new for many cause marketers, we suggest starting small. Pick a more popular product sold through your organization's merchandise catalog—a t-shirt, scarf, or mug. Then find an artist and invite them to design for that product specifically.
Once you do your research and due diligence to find the right artist (see our research tips here), take every opportunity to talk about your collaboration, from announcing the relationship to sharing behind-the-scenes moments that capture the creative process to promoting the merchandise when it's launched. This will help you drum up attention among your existing audience and get your non-profit's message in front of the artist's audience. An artist choosing to collaborate with you and create art for your non-profit is an affirmation of your organization's work, so your introduction to an entirely new audience comes with instant credibility—an added bonus.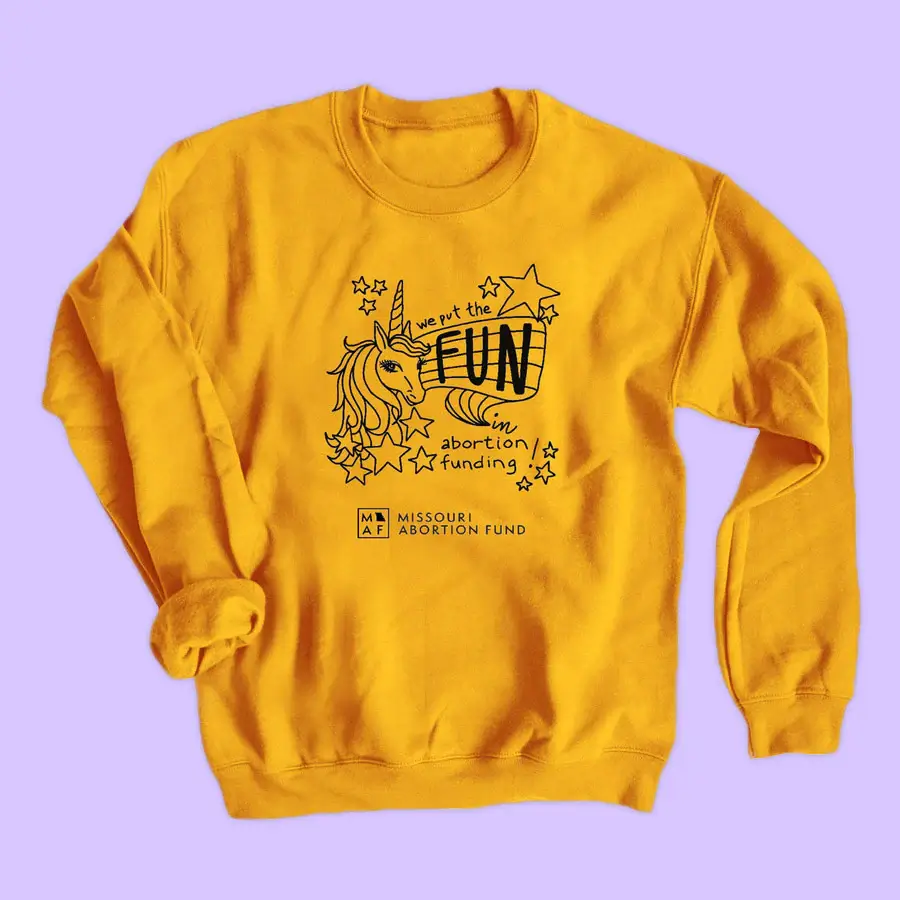 Kat Kissick's unique t-shirt design for the Missouri Abortion Fund.
Collab Example: Missouri Abortion Fund x Kat Kissick
A perfect example of a non-profit organization partnering with an artist as an ambassador to bring attention to its mission is the collaboration between the Missouri Abortion Fund and feminist illustrator Kat Kissick. Agreeing to use her art for social good, Kat Kissick created a unique t-shirt design for the Missouri Abortion Fund.
In turn, the Missouri Abortion Fund leveraged the artist partnership to spread word about the non-profit's work to Kat Kissick's audience. At the same time, the Missouri Abortion Fund was able to sell the high-quality merchandise it received from Kat Kissick to existing supporters for fundraising. The attention-grabbing merchandise gave donors a fun way to show support and spread the social good organization's message.
2. Integrate an Artist Into Your Non-Profit's Fundraising Campaign
Artists are creative and multifaceted. Many actors paint or freelance as photographers. Musicians are talented storytellers and often serve double duty as visual artists. We've had success leaning into these diverse talents in past campaigns. For example, our work on the Art of Saving a Life campaign for the Gates Foundation united the talents of over 30 artists from a diverse set of creative backgrounds to illustrate how vaccines have impacted our history.
Entertain Impact CEO Paul Katz knows from experience across multiple campaigns that non-profits can raise their profiles and credibility significantly by infusing their communications and fundraising programs with this kind of creativity. "When working with creators, consider their artistry and authenticity as much as their fame and reach. If they're open-minded and able to plan a little in advance, non-profit leaders can incorporate artists' core talents and values by, say, engaging creators to lead their campaign creative, direct PSAs, or create original art for their cause."
Collab Example: NGO ALIMA x Lossapardo
The leaders at Dakar-based humanitarian NGO ALIMA leaned into this cause influence strategy when they made original artwork the centerpiece of their 2022 We Are The Solution campaign.
Leading up to the campaign, we knew we needed to introduce ALIMA to an entirely new audience and underscore the importance of the NGO's unique approach to homegrown healthcare solutions. The challenge was packaging all the ALIMA story in a compelling way. By partnering with a well-respected artist who was passionate about its cause, ALIMA became a case study of how non-profits can use art to bring attention to complex issues.
Artist Lossapardo created a series illustrating ALIMA's work and impact. Once the campaign was live, ALIMA used the campaign artwork for promotional and fundraising purposes. In addition, Lossapardo attended ALIMA fundraising galas and donated his campaign artwork for auction, with proceeds benefiting NGO ALIMA's work.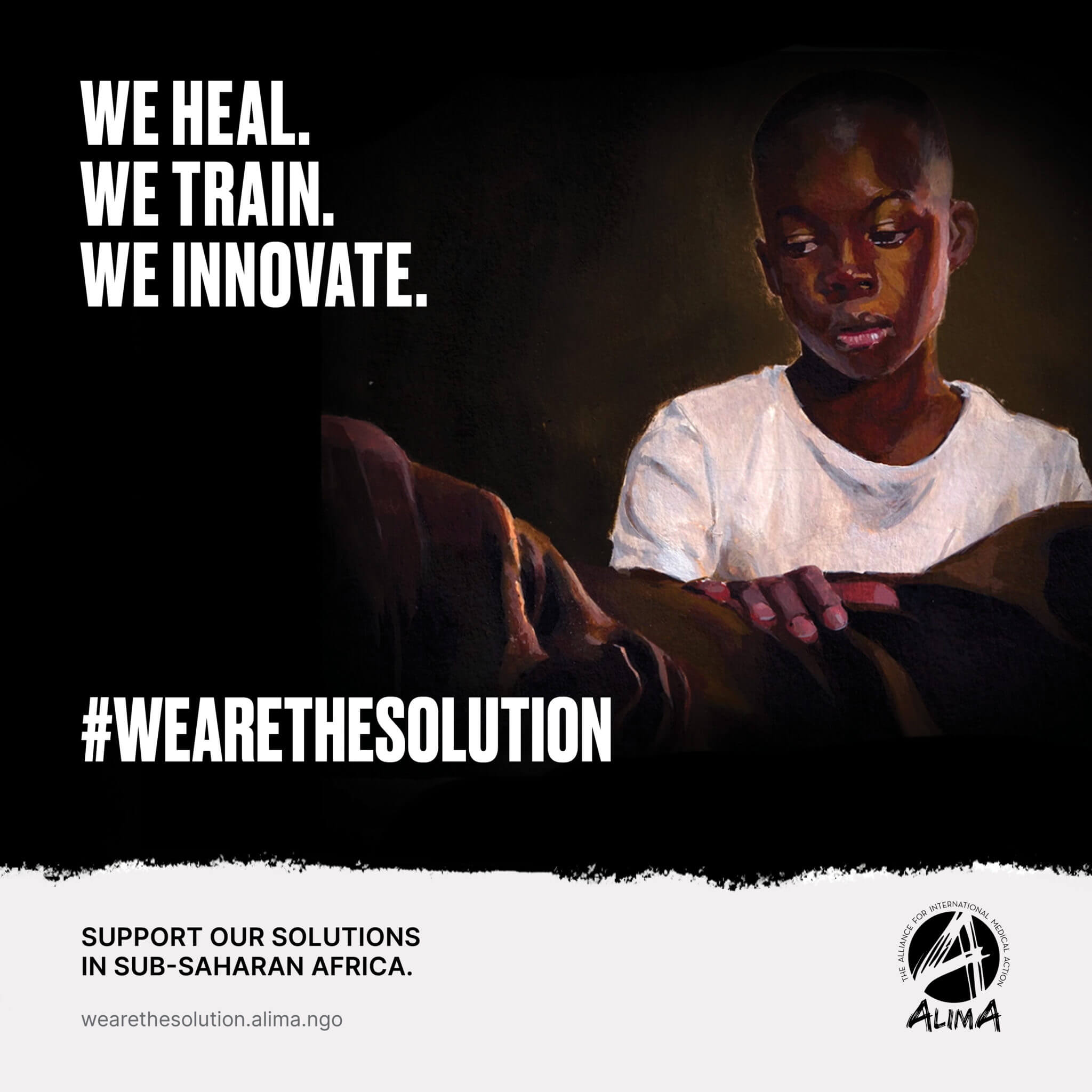 ALIMA campaign graphic using Lossapardo's original art.
Watch ALIMA's #WeAreTheSolution campaign video.
3. Amplify Your Non-Profit's Social Impact Work at In-person Events
Partnering with an artist to showcase your non-profit at an event is a great way to build excitement for your mission and show the direct impact of your social good work in the communities you serve.
Don't worry, the event doesn't have to be a concert or gala. You could partner with an author to do a book reading or host a painting class with an artist and use ticket sales to raise funds.
Even if you're not ready to arrange your own shindig, you can get involved with an event that's already in the works. See if there are opportunities for a mission-aligned artist or musician to amplify your organization at one of their upcoming events. For example, you can propose donating a portion of a concert's ticket sales to your non-profit. Or, ask an artist if they'd be willing to offer a unique experience, like a chance for fans to hang out at a meet and greet, in exchange for a donation to your organization.
Collab Example: WHO Foundation x Global Citizen LIVE
A gold-star example of a non-profit making the most of an event partnership belongs to the WHO Foundation for building hype around its Go Give One campaign for vaccine equity at a music festival. The WHO Foundation linked up with fellow non-profit Global Citizen to become the priority fundraising partner for vaccine access at the organization's worldwide concert, Global Citizen LIVE. Public figures such as Elton John, Billie Eilish, and the Duke and Duchess of Sussex took to the festival's main stage to highlight Go Give One and the need for vaccine equity.
Following the festival, Go Give One was promoted on Global Citizen's website, and a special donation portal was set up so visitors could easily contribute to the cause. The event-based partnership helped Go Give One garner widespread recognition, leading to corporate partnerships, increased donations, and earned media.
Embrace Creativity to Elevate Your Non-Profit's Marketing Plan
We've listed just a fraction of the ways social impact marketers can utilize an artist partnership. The truth is, when you collaborate with an artist as part of your non-profit's cause influence strategy, the possibilities are endless. We hope these examples inspire social good organizations to tap into the skills of cultural creators and integrate art into their campaigns to help reach new audiences, strengthen credibility, and meet fundraising goals.