The "influencer effect" is a significant component of my upcoming book, "Good Influence: How to Engage Influencers for Purpose and Profit," set for release in 2023. It is the power that public figures have to influence specific audiences. At Entertain Impact, we help non-profits tap into this phenomenon to amplify and meet the goals of their social good campaigns.
But what about the other half of the cause influence partnership? If you're an influencer—whether a celebrity, social media creator, athlete, musician, actor, or other type of public figure—how can you use your platform to support social good or integrate cause more deeply into your career?
That's the question celebrities, influencers, and their representatives ask me. My experience in entertainment allows me to understand cause influence from the public figure's perspective, so I can advise those who want to integrate purpose into their career. Here is what I tell them.
 1. Picking a Philanthropic Cause that Matters to You
If you're a celebrity or influencer, you're familiar with the inbox full of requests to endorse various non-profits and philanthropic causes. Accepting even, say, 10% of these requests would consume all of your time.
Before you agree to use your platform to support any social good mission, I urge you to identify the causes you're passionate about and willing to give time to amplify. If you're like me and have a soft spot for several philanthropic endeavors, I suggest you take the time to prioritize them, especially if you're just starting your cause influence journey.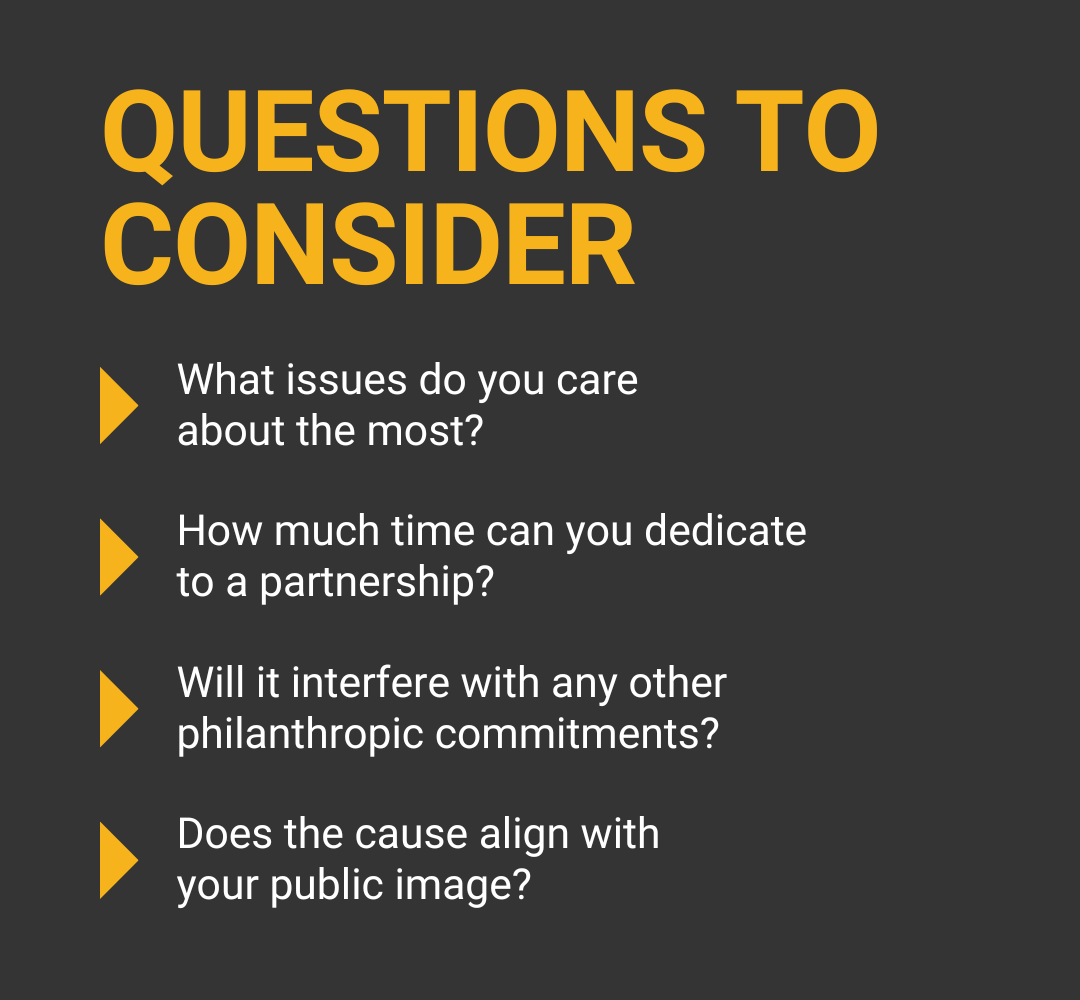 As part of Entertain Impact's work, we help public figures and influencers choose the right cause for them. Through a discovery process, we learn their interests and goals to determine an authentic cause connection. Usually, it's tied to something personal, for example:
Life experiences, e.g., a childhood pet sparked their interest in animal welfare causes
Close relationships, e.g., their mother was a teacher, so they want to give back to schools
Cultural identity, e.g., BIPOC experiences may lead to supporting racial justice organizations
From there, we work with a public figure—or their management team—to integrate that mission-oriented purpose into their professional plan. This way, supporting a cause seamlessly becomes part of an influencer's work, not an afterthought.
2. Choosing the Right Non-Profit to Endorse
Once you've landed on a cause, the next step is partnering with the right non-profit. As there are likely hundreds of non-profits within your chosen cause space that would welcome your support, selecting one to incorporate into your social good work can be overwhelming. When Entertain Impact does this for public figures looking to partner with non-profits, we begin with a lot of research.
If you're doing this on your own, I suggest using the following factors to guide you in choosing the right non-profit to endorse:
Location: Is there a mission-aligned non-profit serving the community where you currently live or grew up? Or in another area that is special to you?
Size: Do you want to support a well-known organization serving a broader base or a niche organization with more localized impact?
Services: Are there any specific programs or services that you'd ideally like to see from the non-profit you support? Do you envision opportunities to partner with a non-profit and contribute to its mission and programmatic work?
Reputation: Are the non-profits you're researching for your social good partnership well-established? Do they have a good reputation in their community? Have they received support from other public figures with positive outcomes?
Impact: Does the non-profit have a proven track record? Does their social impact report show a positive Social Return On Investment?
There are plenty more details you can focus on, but try not to get overburdened. When it comes to cause influence, listening to your heart and remembering why you're using your platform to amplify a non-profit's mission is as important as what you discover during your research.
3. Building an Impactful Partnership With a Non-Profit
Once you've determined which non-profit you'd like to approach, have your management team set a meeting. These are things agencies like Entertain Impact can do for or with you. If you're navigating this space on your own, I suggest that you start the conversation by asking the non-profit you plan to endorse if there are specific ways they would like you to provide support. But don't just sit back. Come prepared with ideas and dates that work for you.
I advise starting with a few light-touch activations, like:
Posting on social media
Creating an endorsement message
Filming a short PSA
Offering a quote for a press release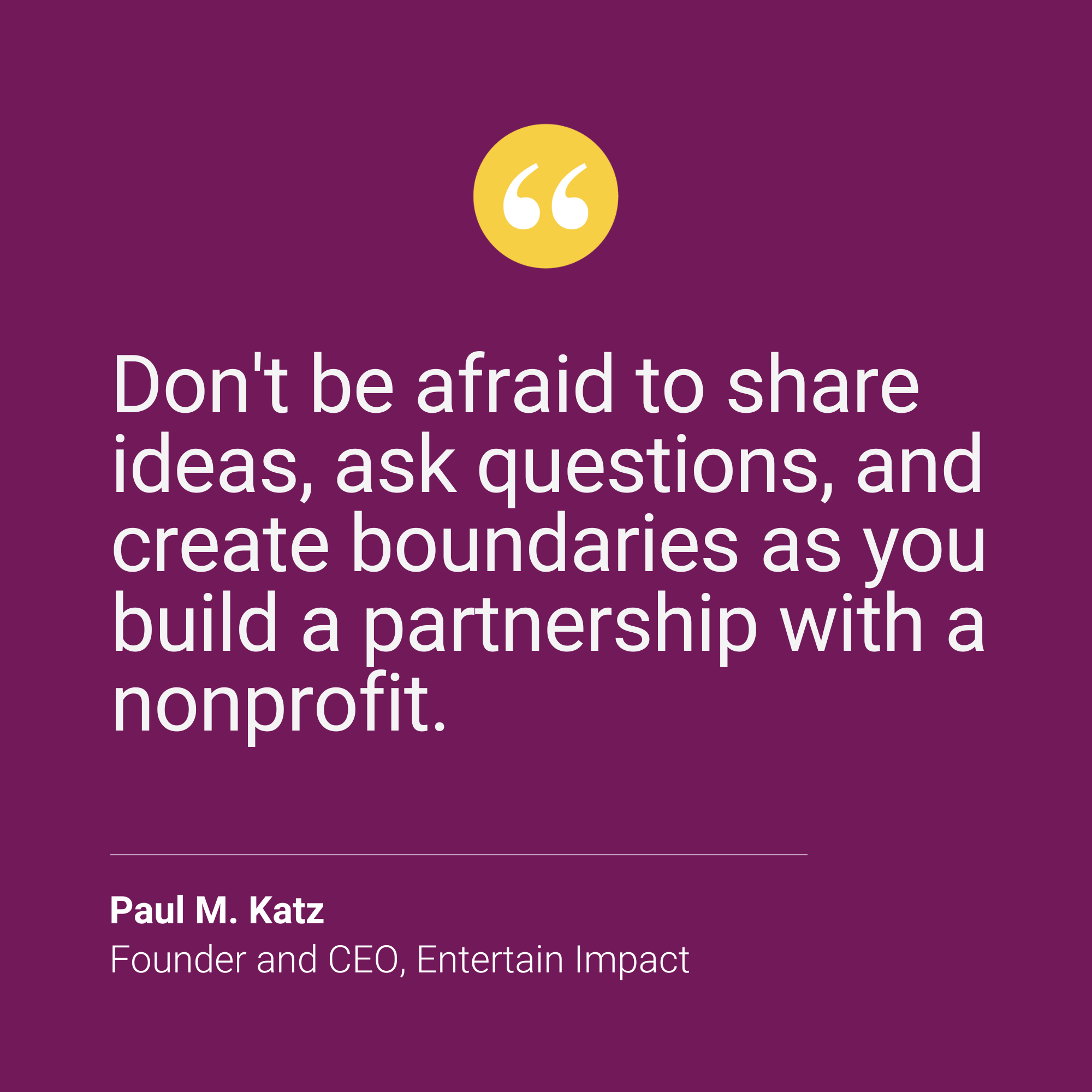 Don't be afraid to share ideas, ask questions, and set boundaries as you build a partnership with a non-profit. But stay open-minded. They might suggest interesting ways you can use your platform to amplify their social good mission—things you wouldn't have considered.
There are Many Ways Cause Influence can Enrich Your Career and Life
Over the years, I have facilitated many successful partnerships between public figures and non-profits. Often, these relationships start small and expand over time, with influencers and celebrities eventually becoming long-term ambassadors for an organization they've come to know well and support deeply.
I've even seen celebrities become so moved by what they experienced working with social good leaders that they launch their own non-profits. Examples of well-run celebrity organizations are Rihanna's Clara Lionel Foundation, Kevin Bacon's Six Degrees, Angelique Kidjo's Batonga Foundation, and Usher's New Look. 
A strong partnership between an influencer and a non-profit can be satisfying, meaningful, and make a difference. If you're a public figure and would like to partner with a non-profit, feel free to reach out. The Entertain Impact team and I are here to help celebrities, artists, and influential public figures apply the influencer effect for social good.
This article was written by Paul Katz.