When it comes to nonprofit campaigns, influencers can be powerful allies. However, writing an influencer outreach letter asking for support can be a daunting task. In my 30+ year career in entertainment and philanthropy, I've learned how to write influencer ask letters that set apart my client's social impact campaigns and inspire public figures to take action.
In this article, I'm sharing six of my best tips plus a downloadable Influencer Outreach Kit that comes with multiple customizable ask letter drafts and templates that social impact leaders can use to write effective influencer outreach letters. Whether you're looking for one-off support or a long-term partnership, these tips will help you craft compelling asks that motivate influencers to support your campaign.
Outreach Tip 1: Introduce Your Organization and Campaign Issue
Public figures and their teams receive requests to support social causes daily, so they'll appreciate it if you share the need-to-know details upfront. Begin your influencer outreach letter by briefly introducing your organization and reason for reaching out in 2-3 sentences. Start with something simple like:
Hi (representative name),
I'm with (organization), an organization that (brief organization description), and I'm reaching out to invite (influencer name) to support our new campaign, (campaign name). Launching (date), (campaign name) aims to (campaign goal).
Outreach Tip 2: Share Influencer's Connection to Campaign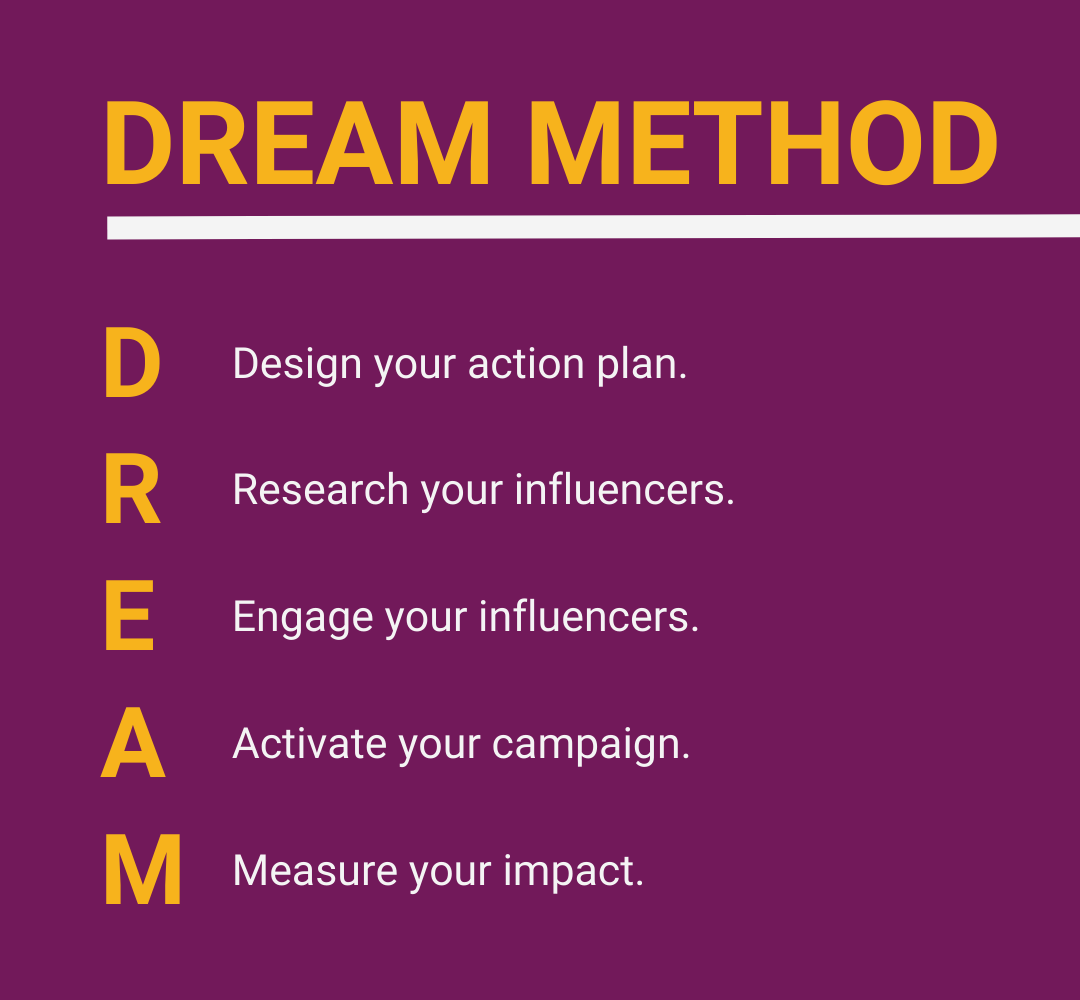 If you're following my D.R.E.A.M. method to creating influencer-led social impact campaigns, you've likely done thorough research to identify public figures that match your campaign. Maybe you've found an influencer with a personal connection to your cause or one who has publicly supported a similar issue in the past. Include that in your influencer outreach letter to make a deeper connection.
Here is an example:
Given (influencer name)'s vocal online support for (issue), we want to invite (pronoun) to help by … [read more]
Outreach Tip 3: Preview the Expected Campaign Activations
Before writing your influencer outreach letter, you should have an idea of what actions you want an influencer or celebrity to take on behalf of your nonprofit organization or social impact campaign. Letting a public figure know what is expected will help minimize any back and forth between your teams, and increase your chances of getting a timely response.
For example, if you're inviting a celebrity to amplify your campaign by creating an original video and posting it to their social media account, say as much in your influencer outreach letter. I offer a complete influencer outreach letter for this exact type of influencer-led social media campaign ask in my Influencer Outreach Toolkit, along with sample outreach letters inviting influencers to participate in a celebrity-filled PSA campaign or to attend an event.
Outreach Tip 4: Provide More Details with a Campaign Toolkit
Regardless of how you plan to activate public figures, your influencer outreach letter should include a toolkit that provides information and resources about your social impact campaign. Contents of a toolkit will vary, but typically include:
A brief campaign overview, with start and end dates
A few statistics relevant to your issue
Key campaign messages and shareable graphics
Relevant campaign hashtags
Your organization's social media handles and website
When sending influencer outreach letters on behalf of our nonprofit clients, my team usually includes a link to the toolkit after specifying the campaign activation, but there are many ways you can work your nonprofit campaign toolkit into your letter. The three ask letter templates in my Influencer Outreach Kit offer more examples you can reference.
Outreach Tip 5: Tout Existing Supporters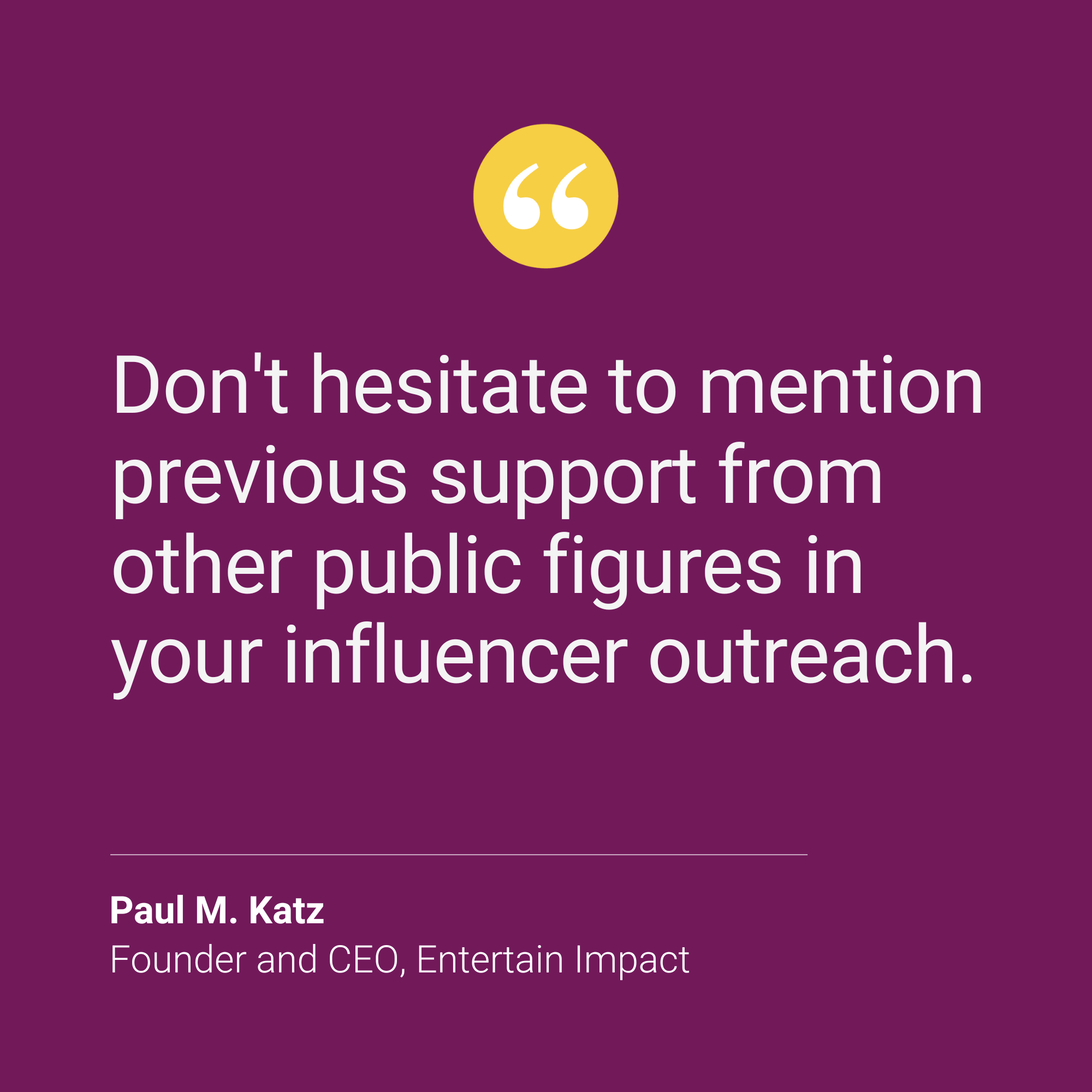 If your organization has received positive press coverage or previous support from public figures, highlight these in the body of your influencer outreach letter. This is especially helpful if your organization lacks name recognition because it gives credibility to your social impact campaign–an important factor in standing out to influencers and celebrities who might not be familiar with your mission.
It might feel awkward to name-drop past supporters, but I encourage you to set aside your humility and put your best foot forward. I give an example of exactly how to do this and highlight any public figures or influential voices who may have joined your campaign or shown support to your nonprofit in my Influencer Outreach Kit.
Outreach Tip 6: Provide Follow-up Opportunities and Share Contact Information
Conclude your influencer outreach letter by letting public figures and their teams know that you are available to answer any questions and coordinate a follow-up call. This is a simple, polite way to reiterate to an influencer your interest in working with them while showing that your organization is professional and open to collaboration.
Maximize Your Campaign with Effective Influencer Outreach Letters

Collaborating with a public figure to support your nonprofit campaign can have a huge impact on your cause. Getting there is the hard part. Follow these tips and use the customizable templates in my free Influencer Outreach Kit to write compelling and sincere ask letters that garner attention and support on behalf of your next campaign.
This article was written by Paul Katz.