Influencer marketing can be a key strategy for purpose-driven organizations seeking to amplify their social impact campaigns and drive change. However, not all influencers are created equal. Some have millions of followers and a wide reach, while others have the potential to grab the attention of niche groups. It's important to know the difference between influencer types before choosing the right one for your organization's cause influence campaign.
In this article, I break down the four different types of influencers, talk about who qualifies as an influencer (you may be surprised!) and provide tips on picking the best public figure for your campaign's goals.
Defining the Four Types of Influencers: Mega, Macro, Micro, & Nano
In the past, celebrities and influencers were often considered one and the same. Now, with the increased popularity of social media and content creation platforms like Instagram and TikTok, there are at least four distinct categories of influencers.
There are mega-influencers, who reach more than 1 million people; macro-influencers who have 100,000-1 million followers; micro-influencers with 10,000-100,000 followers; and nano-influencers, who reach fewer than 10,000 followers.

Categorizing influencers by follower count allows us to identify the most suitable influencers for an organization's social impact campaign. Leveraging mega- and macro-influencers (usually A-list celebrities) is an effective way to amplify a campaign and boost credibility among audiences. On the other hand, micro- and nano-influencers are great for generating action and engagement.
Determining Who Is Considered An Influencer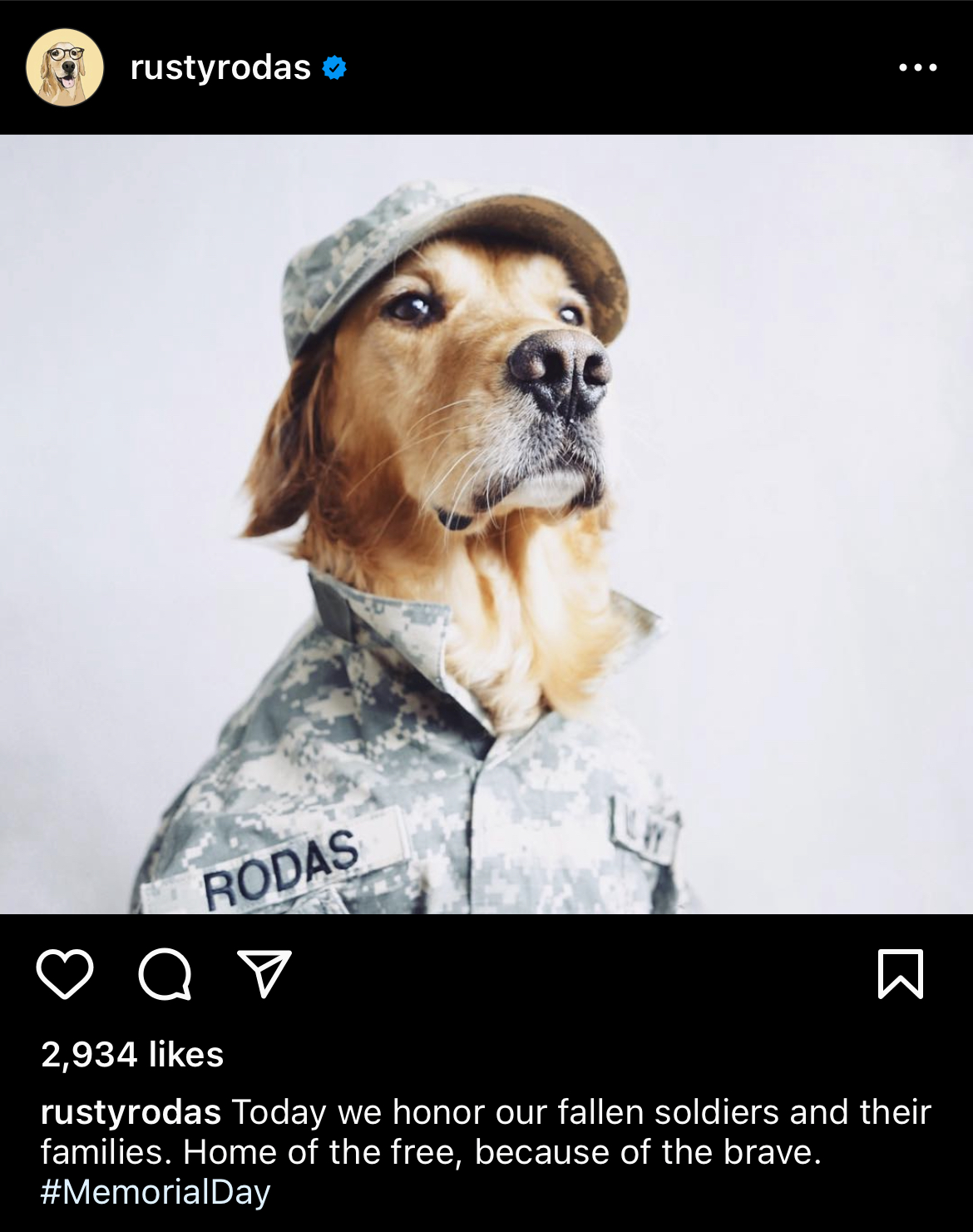 An Instagram post from influencer Rusty Rodas.
The rise of social media's growing focus on content creation has also shifted the idea of who actually is considered an influencer. People often imagine influencers only as models or fitness gurus selling their lifestyles. However, when it comes to cause influence campaigns, we consider an influencer to be any public figure who has the ability to break through the noise and connect with audiences on behalf of a social cause. These individuals can include:
Community activists
Athletes and coaches
Journalists, authors, and academics
Actors and comedians
CEOs and thought leaders
An influencer doesn't even have to be a person! When working with the nonprofit Canine Companions for Independence, we engaged Rusty Rodas, a rescue dog with nearly 100K Instagram followers, to spread the word about our social impact campaign to his audience of dog lovers. As a result, the organization exceeded its fundraising goals and saw a 3x increase in donations from new donors.
Choosing an Influencer for Your Cause Influence Campaign
I encourage the social impact teams and nonprofit marketers I work with to keep an open mind when searching for the right public figures for their cause influence campaigns. I remind them that it's not about engaging the biggest name, but about engaging influencers who will be culturally appropriate and effective in getting a specific message across at a particular time. Usually, the best choice is to develop an influencer marketing campaign that incorporates multiple types of influencers, from mega to nano.
When my team at Entertain Impact is identifying influencers for a social impact campaign, we look at:
Reach: Will the influencer reach the target audience? Beyond the total number of people, it's important to consider who is being reached by your social impact campaign's message and whether that aligns with the desired supporter profile.
Relevance: Does the influencer have a real relationship to the cause? Ideally, a public figure should have an authentic connection to the issue you want them to amplify.
Resonance: Will audiences take direction from the influencer on this issue? Consider an influencer's ability to share your message in a way that resonates with your target audience and drives action.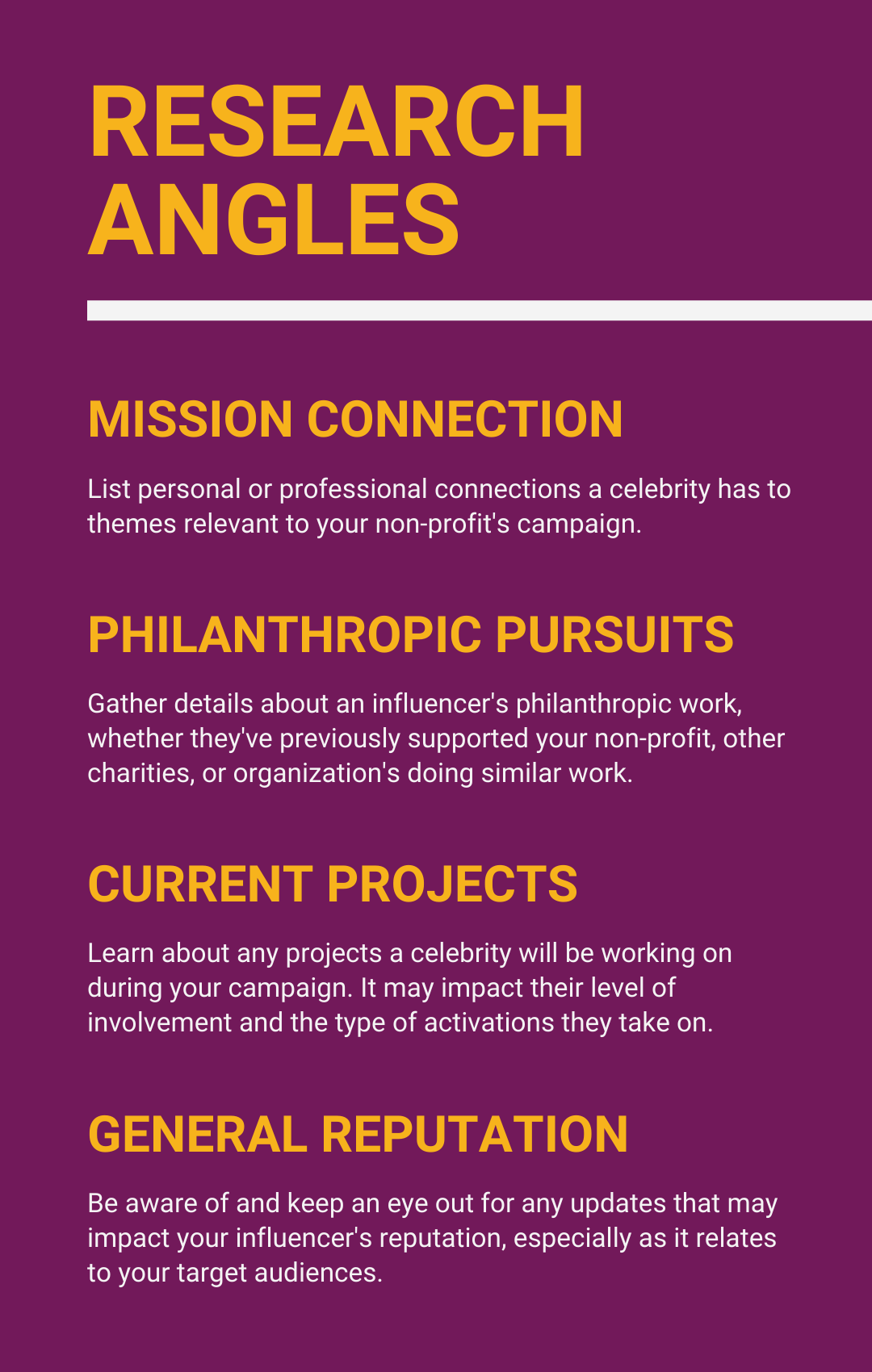 Factors to consider when researching influencers for your nonprofit campaign.
Influencer Marketing can Help Elevate Your Cause
The right message delivered by the right influencer can help your social impact campaign reach untapped audiences whose values align with your cause. Luckily, purpose-driven organizations have a variety of public figures to engage on behalf of their cause. Becoming familiar with the different types of influencers will make it easier to identify those who are a natural fit for your social impact marketing campaign. If you have any questions about influencer types and choosing the right one for your organization's cause influence campaign, feel free to reach out.
This article was written by Paul Katz.