Cause Influence is a growing area of marketing that leverages the power of popular culture, especially public figures, for social impact. It's a strategy that non-profit organizations and businesses can use to amplify their mission and generate good outcomes. It's purpose-oriented rather than profit-motivated, but organizations can also do well by doing good.
For the last three decades, I've worked with purpose-driven leaders to create Cause Influence campaigns that made lasting impacts. My book, Good Influence: How to Engage Influencers for Purpose and Profit, was published earlier this year. The book, and this blog, can guide those interested in learning more about Cause Influence, its benefits, and how to incorporate it into your existing strategy.
How Cause Influence Campaigns Benefit Purpose-Driven Organizations
Whether you're part of a non-profit organization or a for-profit business with a social impact mission, your target or desired audiences likely look to credible public figures, thought leaders, and celebrities for reliable information and to act on their recommendations. Incorporating influencers and celebrities who share an authentic connection with your cause is an effective way of extending the reach of your campaign, especially to new and younger audiences who are persuaded by social media influencers more than advertising.
Making Cause Influence a core part of your marketing strategy is an effective way of elevating your cause, increasing revenue, reaching new audiences, inspiring them to act, and growing your organization. Plus, there are many ways to do it!
Examples of Cause Influence Campaigns
The best way to understand how Cause Influence works is to see it in action. Here are three non-profit campaigns that successfully engaged public figures to promote their social good mission.
National Trust for Historic Preservation: Preserving Nina Simone's Childhood Home
As part of its work to preserve Black American history, The National Trust for Historic Preservation's African American Cultural Heritage Action Fund created the campaign to preserve the childhood home of musician Nina Simone. Collaborating with the Action Fund, I developed a Cause Influence strategy that engaged celebrities and artists inspired by Simone's music.
My team prepared a social media campaign toolkit that spoke directly to artists connected to Nina Simone, prompting them to support The Fund's work through message amplification and donations. As a result, the Cause Influence campaign generated over 17K social media posts and engaged 27 celebrities, including John Legend, SZA, Patti Labelle, and rapper NoName.
In just a few months, the non-profit fundraising campaign raised over 140% of the National Trust's goal of $25,000. Subsequently, via an art auction guest curated by Venus Williams, a further $6M was raised.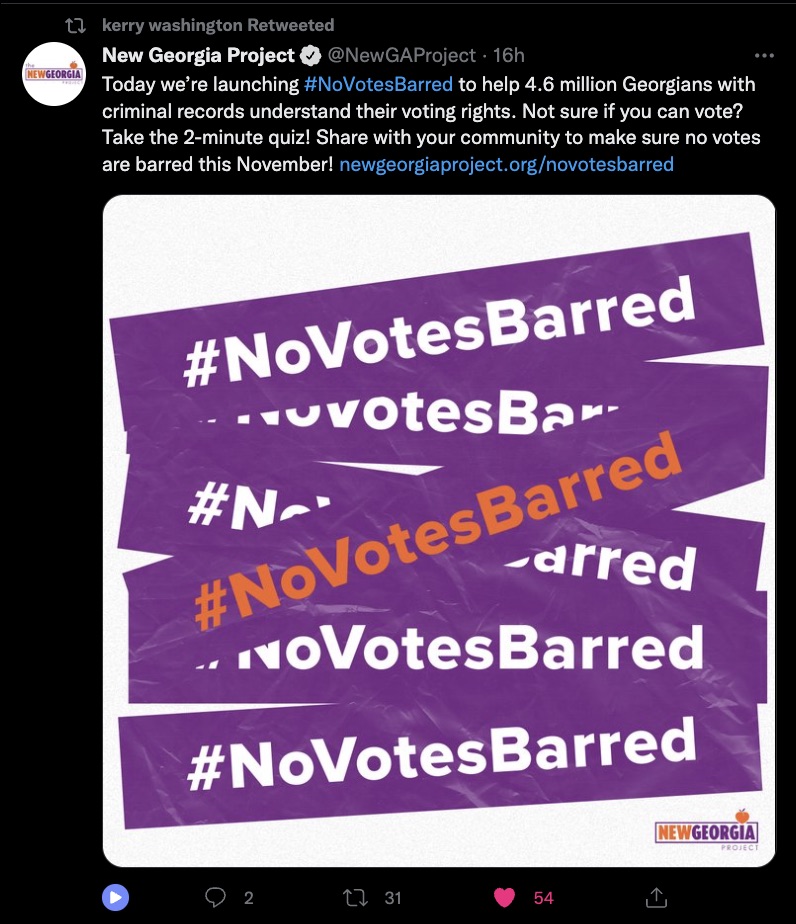 Art from the #NoVotesBarred campaign.
New Georgia Project: No Votes Barred Campaign
Ahead of the 2022 midterm elections, my team at Entertain Impact Advocacy Alliance partnered with New Georgia Project to launch #NoVotesBarred, a voting rights campaign to help Georgians with criminal records- known as returning citizens – learn if they had the right to vote restored through an online quiz.
To reach New Georgia Project's target audience, our Cause Influence strategy engaged local micro-and nano-influencers to drive impacted Georgians to the No Votes Barred landing page and quiz. At the same time, we worked with celebrity and macro-influencers, such as Kerry Washington and Alysia Reiner, to spread No Votes Barred messages and dismantle widespread misconceptions about voting with a criminal record in Georgia.
In two months, #NoVotesBarred received support from 28 celebrities and political influencers, reached nearly 1 million people, and drove thousands of Georgians to the campaign's landing page.
WHO Foundation: Go Give One Campaign
In 2021, The World Health Organization Foundation (WHO Foundation) developed Go Give One, a campaign to combat disparities in COVID-19 vaccine equity. The campaign's premise was simple: donate $5 to provide a vaccine to someone in a lower-income country.
As part of the Cause Influence strategy for the campaign, Go Give One was announced at Global Citizen LIVE, a 24-hour, worldwide event that brings artists, celebrities, and world leaders together for social change. Celebrities were engaged to promote the campaign at the event. During his performance in Paris, musician Elton John urged concert-goers to donate to Go Give One, while at the New York concert, the Duke and Duchess of Sussex took to the stage to speak on global vaccine equity.
After a few months, this campaign raised $1.7 million from donors worldwide and helped purchase more than 536,000 COVID-19 vaccines for people in lower-income countries.
Take steps to Incorporate Cause Influence into Your Marketing Strategy
Throughout my career, I've seen how Cause Influence can transform the outcome of campaigns in the philanthropic space. Influencer-led campaigns have the opportunity to reach new, highly desired, but difficult-to-reach audiences and engage existing and even former supporters in an authentic way. Plus, as illustrated in the case studies above, Cause Influence campaigns can make people take action.
My book and website have many resources and entertaining stories to give you the confidence and knowledge to make Cause Influence a part of your marketing strategy. For more information, pick up a copy of Good Influence, and feel free to reach out with any questions. The journey of a thousand miles may start with one step, but these resources will be your GPS for the entire journey. Just start.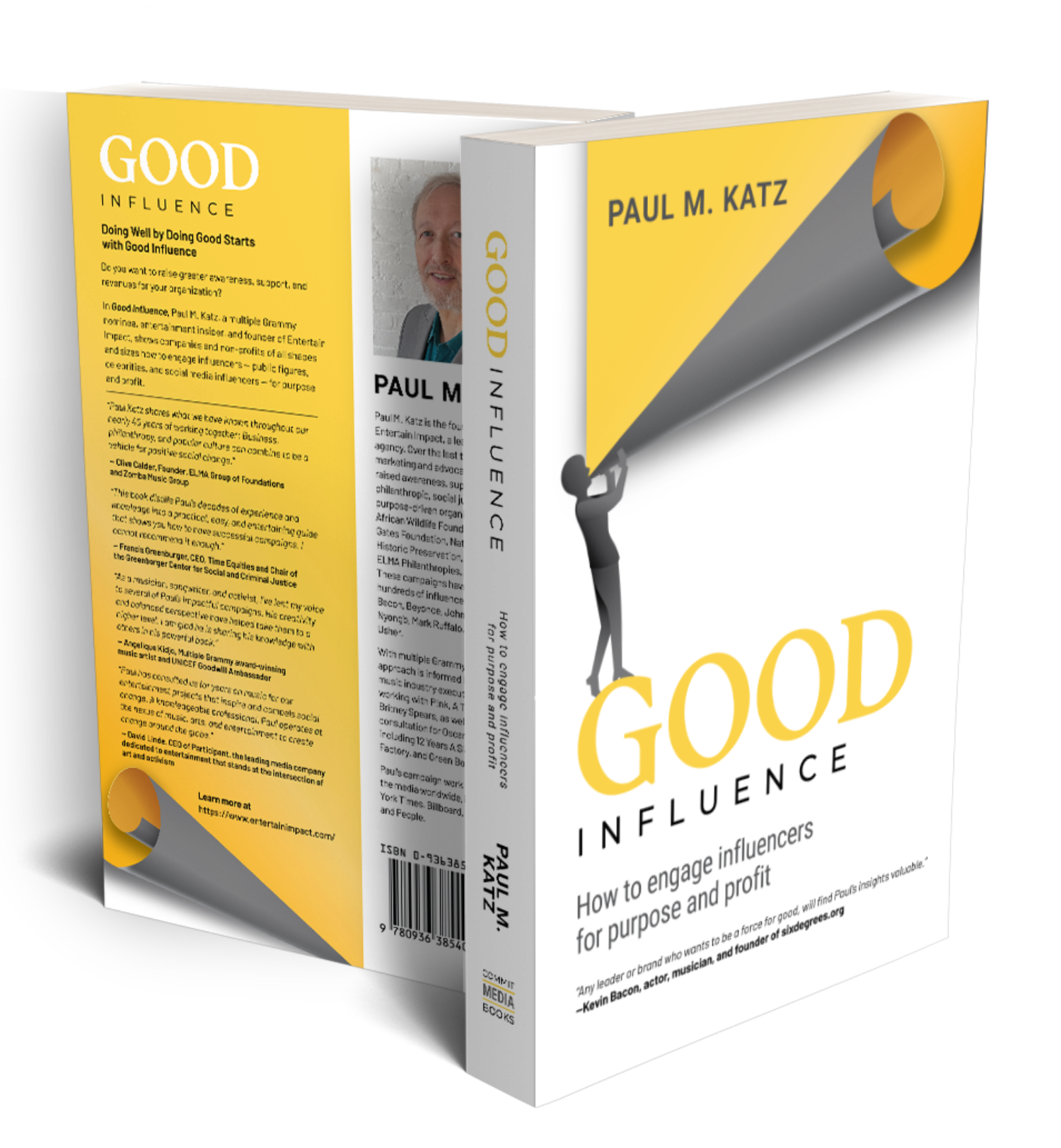 References:
Nielsen Company. "Global Trust in Advertising: Winning Strategies for an Evolving Media Landscape." Nielsen. September 2015. Accessed February 22, 2022. https://www.nielsen.com/wp-content/uploads/sites/3/2019/04/global-trust-in-advertising-report-sept-2015-1.pdf
Charm, et al. "US Consumer Sentiment and Behaviors During the Coronavirus Crisis." McKinsey (website). December 14, 2021. Accessed February 22, 2022. https://www.mckinsey.com/business-functions/marketing-and-sales/our-insights/survey-us-consumer-sentiment-during-the-coronavirus-crisis